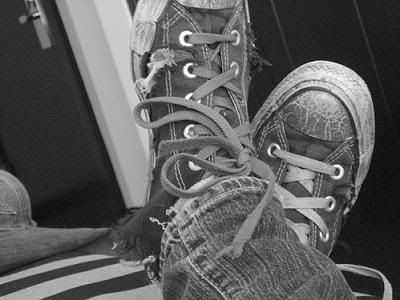 I like to sit outside the vegan bakery and talk to the drunk scene kids about 1984. Which none of us have read.

I go to concerts. Especially free concerts. We sit on the benches at Thomkins Square Park and trip the kids who're tripping. I don't know if that's ironic or what, but it's pretty damn fun.

My journal's mostly concert pictures/reviews. I keep my other entries pretty short. No laundry-list recaps of my boring school day.

Cause seriously, fuck highschool. No one needs to hear about the math test I totally failed.

Holla if you agree.

Add me if you want to.

Some interests behind the .

Music.
David Bowie, Iggy Pop, The Dandy Warhols, Arcade Fire, Animal Collective, Wolf Parade, Led Zeppelin, The Doors, T. Rex, Miles Davis, Belle & Sebastian, Franz Ferdinand, The Velvet Underground, BRMC, Blondie, Bob Dylan, Talking Heads, The Walkmen, The White Stripes, The Clash, The Ramones, The Sex Pistols, Johnny Thunders, The New York Dolls, Clap Your Hands Say Yeah, Buddy Guy, Kanye West, The Kinks, LCD Soundsystem, Madonna, Bright Eyes

Movies.
A Clockwork Orange, Midnight Cowboy, Zoolander, Labyrinth, Kramer vs. Kramer, Times Square, Rocky Horror Picture Show, Muppet Treasure Island (represent!)

TV.
Lost, America's Next Top Model(It's an addiction), Project Runway, Seinfeld, The Daily Show With Jon Stewart, Full House... because Uncle Jesse's mullet is HOT.


Oh, and X-Posted... Sue me.